Types of Hard Drive Shredding in Detroit
When you upgrade the computers in your office in Detroit, what do you do with the computers you're replacing? Some companies donate them to local Detroit charity or sell them for a reasonable price to employees or online.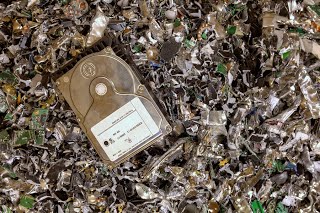 We know you want usable computer equipment to be utilized. What we wonder is if you took proper steps to ensure that you erased company files and critical business information entirely?
Reformatting the hard drive is a good first step, no matter how critical the information on that computer was- but that doesn't mean that it's not easy to retrieve. You're better off than some businesses that don't even erase their data at all.
Electronic media destruction companies always have to clarify what steps a business should take to make sure your information is irretrievable from a hard drive you're getting rid of. Dispose of your hard drive properly- and be sure to take steps to ensure you're data can't be recovered.
We know there software solutions that seem to erase hard drives completely. Although this does help you re-sell your equipment, to be sure your data is irretrievable we recommend destroying a hard drive by shredding it or crushing it.
Here are several options that help guarantee that your hard drive will never be accessed again.
Physical hard drive destruction is exactly what you think it is- it destroys the drive and eliminates the chance of accessing data on it. There are several techniques used to ensure your hard drive is completely destroyed and your data can never be accessed. We recommend using at least two of these steps for every hard drive you're looking to get rid of.
Hard Drive Degaussing
Degaussing uses an electromagnetic field to destroy data on a hard drive. This field is generated by a machine that destroys the way the hard drive stores data, making it completely unreadable.
A hard drive destruction company uses a degaussing machine that adheres to NSA and DoD standards to ensure your data is no longer accessible.
Hard Drive Shredding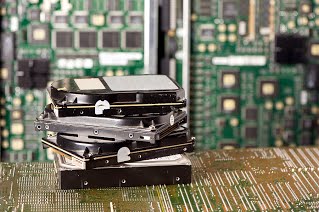 Hard drive shredding is one of the most common ways to ensure a hard drive is completely destroyed. An electronic media destruction company will have specialized industrial shredders that can destroy just about anything- but to ensure your data wasn't compromised they take additional steps to ensure your data is secure. Their hard drive shredders turn your hard drive into thousands of tiny pieces.
All hard drives are secured in locked bins before they are shredded, and can even be monitored via video surveillance to maintain chain of custody and piece of mind.
Hard Drive Crushing
A hard drive crushing machine breaks the platters that store information on drive (along with the rest of the hard drive). Since the drive isn't completely destroyed this method might not be as effective as using a hard drive shredding machine, but it does ensure it will not be used in its regular capacity ever again.
Hard drive crushing machines are also very portable and less expensive piece of equipment compared to other hard drive destruction machines. It's easy to rent one, or to have a professional shredding company bring it onsite. Keep in mind that doing any kind of hard drive destruction (or any internal electronic or document destruction) yourself has its own risks.
Wiping vs. Mechanical Destruction- What Works Best in Detroit?
If you want a guarantee that no one will recover your data, use all of the options we mentioned above. Any time electronic equipment that stores data leaves the premises permanently, it should be degaussed and destroyed.
If you're sending it to be destroyed, you should ensure that the electronic media destruction company degausses it before it's shredded or crushed. That way, you have ensured that every piece of that destroyed hard drive is completely unusable.
Get Free Quotes on Hard Drive Destruction in Detroit Today!
We connect you to hard drive shredding services throughout Detroit, Ann Arbor, and surrounding areas to ensure that all the data on your drives is destroyed. We'll help you decide what the best course of action is for your secure hard drive destruction project.
Let us help you find a secure hard drive destruction company throughout Michigan. To get Free, No-Obligation Quotes on hard drive shredding in Detroit today, fill out the form to the left, or give us a call at (734) 402-8777.