Detroit Document Shredding
HIPPA Compliant
FACTA Compliant
Michigan law Compliant
We Recycle
About Detroit Document Shredding

Detroit Document Shredding is dedicated to helping you find secure and affordable paper shredding services for your Michigan business and home. You have sensitive information that requires the highest levels of security. But it is not just security – you deserve the best in customer service and reasonable prices.
We can meet your shredding needs in Detroit at every level. You will get the right service based on your volume, security, and budget requirements. Services provide you with convenience at a great rate.
Different Types of Hard Drive Shredding
We know there software solutions that seem to erase hard drives completely. Although this does help you re-sell your equipment, to be sure your data is irretrievable we recommend destroying a hard drive by shredding it or crushing it.
If your home or businesses needs old files destroyed quickly and safely, we can help. Our network of shredding professionals in Michigan offer convenient and secure shredding services to thousands of businesses across the state.
Here are several options that help guarantee that your hard drive will never be accessed again. For more specifics on Detroit Document Shredding, just fill out a free quote today or call us at (734) 402-8777.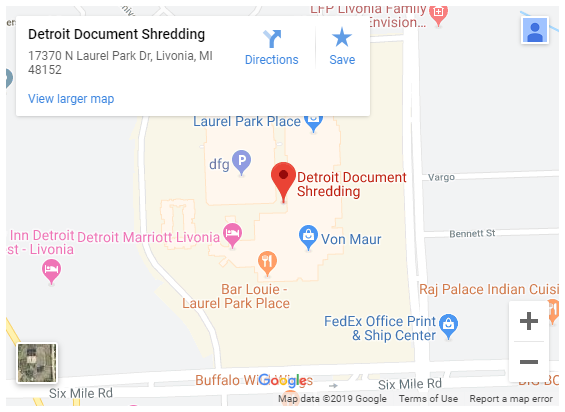 Get Free Quotes on Document and Hard Drive Shredding in Detroit
Detroit Shredding Services
Service Options Available in Detroit
Ongoing Service – Daily, weekly, and monthly scheduled shredding service. Secure, locked shred consoles are placed in your office free.
Purge Service – For companies that are needing annual, one-time, or occasional shredding. Pricing is based on quantity shredded.